How to Get Started
There are several ways you can get started on the process of creating an estate plan that reflects the life you've lived and fulfills your goals and values.
Call our partners at ADVISORS with Purpose and speak to an estate specialist who can answer your questions and/or help you complete a personalized estate plan that can then be taken to a lawyer for execution. They can even help you find a lawyer if needed.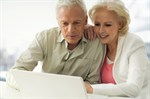 A simple way to begin to ask those important stewardship questions is to use the simple online estate planning tool provided by our partners at ADVISORS with Purpose - The Giving Gateway. This tool will walk you through giving through your estate in an easy to follow, step by step process. This can introduce you to some concepts and help you begin to think through your decisions.
When completed, you can simply click through to confidentially send ADVISORS with Purpose your plan and they will be happy to follow up with you and answer any questions you may have, review it with you or make an appointment for a confidential one-on-one with an estate specialist. If you prefer, the Giving Gateway will allow you to print a decision page that you can then take to a lawyer for discussion and inclusion in your Will.
Online Estate Planning Tool
ADVISORS with Purpose offers you a unique opportunity to create a legacy that will help you align your wishes for significant impact today and beyond. This online interactive tool will help you to determine if the legacy you leave will reflect the life you lived.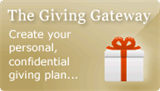 This is a secure area accessible only with an assigned password available from our partners at ADVISORS with Purpose.
For more information please contact ADVISORS with Purpose.
Watch a short video